The 2013 Preaching Survey of the Year's Best Books for Preachers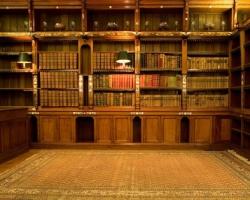 An amazing gathering took place in May 2012, when a huge congregation of ultra-Orthodox Jews met in New York City's City Field in order to warn the Jewish community about the effects of the Internet. The Internet's ubiquity, joined with its unique pattern of information processing, presents dangers, the rabbis agreed, to the ability of the Jewish mind to honor God.
One Jewish leader, Rabbi Ephraim Wachsman, suggested that modern persons are in danger of becoming "click vegetables," who simply click from one data source to another with little comprehension. "If you're bored with something, just click," the rabbi explained.
As literary critic David Mikics argues, reading a book is still a superior experience to grazing from the tsunami of information that comes to us online. "Real reading of real books, reading designed to augment the reader's creative strength, never loses its power," writes Mikics.
Mikics is an advocate of what he calls the slow reading of a text. In his very interesting new book
Slow Reading in a Hurried Age
, Mikics invites readers to slow down and read a text for what it is worth.
My guess is that just about every preacher has an Internet-connected computer very close at hand and is likely to have a smartphone and tablet along for the ride in almost all circumstances. On the other hand, preachers continue to be uniquely committed to the printed word, the word that arrives printed on paper and bound between covers. Although we may not join with other preachers in City Field in order to warn of a precipitous loss of learning, we should remind ourselves why we read books and why we believe reading matters.
The publishing year of 2013 included the release of thousands of volumes. The good news is a far greater number of worthy volumes was released than any single reader ever could read—or merely appreciate. The bad news is the good books are vastly outnumbered by those that are unworthy of the slightest attention. However, if you are like me, you need someone to recommend a few books that rise to the top of the stack.
My intention in this article is to suggest 10 books that deserve any preacher's careful attention in the next several months. Each one has appeared in the past year or so, and all of them represent a contribution worthy of our time and priority.
John M. Frame, Systematic Theological: An Introduction to Christian Belief (P&R Publishing, 2013)
Just a few years ago, it was commonly heard that the age of systematic theology had ended. The presumption of those who made such claims was that no comprehensive and coherent system of considering the totality of Christian doctrine could survive the onslaught of modernity. Nevertheless, and quite contrary to those assumptions, the past few years have witnessed the release of several worthy and truly systematic theologies.
Source: preaching.com